Description
DESIGNED FOR EVERYDAY MEDICAL CARE AND OUTDOOR ACTIVITIES: The
Compression Socks are Mainly Used in Varicose Veins, Pregnant Women Leg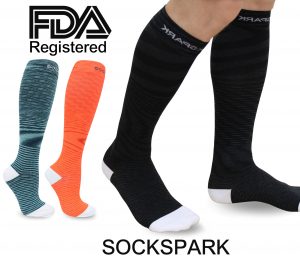 Edema, Home Care and Daily work Nurse, Travel and Business Trip, Outdoor
Activities, Flight, Running, Gym Fitness, Yoga and all more Outdoor Sports
Activities. To Relax the Muscles, Release Tension, Relieve Pain, Improve
Blood Circulation, Prevent Injuries.Let the Exercise will keep you Healthy.
DESIGNED FOR OURDOORS AND SPORTS: Bring more Energy into Your Feet
and Recovery. It's Perfect for any Leg Intensive Activity such as Marathon,
Running,Tennis,Boxing,Hiking, Gym Fitness Training, Basketball, Cycling,
Weightlifting and more. Perfect for Activities Races and Long Runs! The
Compression Sport Socks Really Helps Reduce Fatigue and Swelling in Your
Lower Leg.
COMPRESSION THERAPY SOCKS TECHNOLOGY: Provides True Graduated
Compression to Support Your Legs, Reduce Fatigue, Soreness, Compression
Medical Therapy and Prevent Injuries,Compression Socks Nurse Great for Relief
of Varicose Veins or other Leg Swelling Issues for Pregnancy at the Same Time.The
Compression and Support is Perfectly Located on Heel, Foot & Calves, and the Toe
area wont Squeeze Your Aching Toe Joints. Instant Comfort & Support.